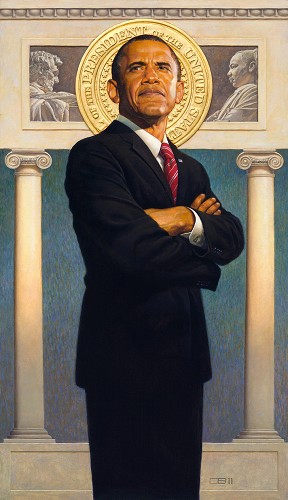 Ebony Visions President Barack Obama Lithograph
Status: Available | Condition:New | Edition:Limited Edition | Dim:35 x 21 | Ebony Visions | TBOBAMA
Price:$175.00
Availability: Yes as of Date: May 23, 2022
As an option you may also pay for Thomas Blackshear II President Barack Obama Lithograph using Paypal. Please note that all orders must be delivered to a physical address verified by Paypal or Google. This PayPal option is not applicable to orders to be delivered to Military or International orders.
Product Details
President Barack Obama Lithograph.
Hand-signed and Numbered by Thomas Blacksher.
President Seal is done with gold leaf.
President Obama stands in front of two pillars that hold up images of the Lincoln Memorial and the Martin Luther King Memorial.This represent the historical support, (Lincoln, the author of the Emancipation Proclamation and King, the leader of the Civil Rights Movement) that made way for the first black president of the United States.
Artist Bio
Designer of numerous U.S. commemorative stamps, former head illustrator at the prestigious Godbold/Richter Studio and creator of the award-winning Ebony Visions® sculpture collection, Thomas has earned acclaim for his spiritual imagery - the often allegorical and always passionate expressions of his faith. With "Watchers in the Night," he says, he hopes to "touch the soul" of everyone who sees it. We can't imagine anyone unmoved.