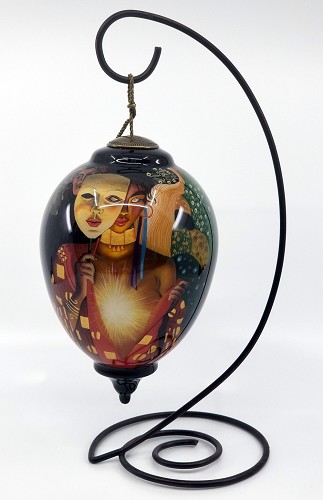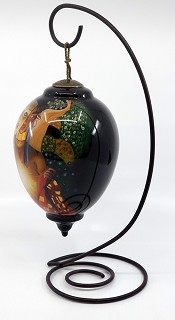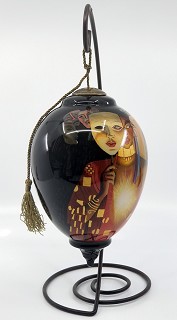 Ebony Visions Intimacy Ornament With Stand
Status: Available | Condition:New | Edition:Limited Edition | Dim:6.75 | Ebony Visions | LE-TB-440
Price:$125.00
Availability: Yes as of Date: September 29, 2023
Product Details
Intimacy "The Intimacy painting has two sides to it," Thomas explains. "On one side, the woman held several masks near her face, symbols of the bland or false masks that people wear when they go into the world to socialize or do business." The right side of the woman's face revealed her beautiful glaze, a beam of light radiating from her body, and a beautiful flower garden representing what Thomas calls, "the true color of her real self."
Hand-Painted Original Art.
We are proud to present this beautiful and unique line of home decor art. Ne'Qwa artists create every design by using the centuries-old tradition of painting on the inside of mouth-blown glass. An artist signature and the Ne'Qwa logo, etched into the glass, authenticates every piece.
Artist Bio
A world class illustrator, Thomas Blackshear is best known for his limited edition prints and collectors plates. Now, his extraordinary versatility as a fine artist is exhibited in a third dimension: limited edition sculpture. Thomas Blackshears sculptures demonstrate incredible sense of design, unique eclectic style and extraordinary sense of color. Elegant drapery and delicate detail tantalize the eye while revealing each sculpted form. For centuries classical beauty has been portrayed predominantly by white artisans who represent white subjects in their art. Thomas has created a new vision of beauty and human emotion through his work.