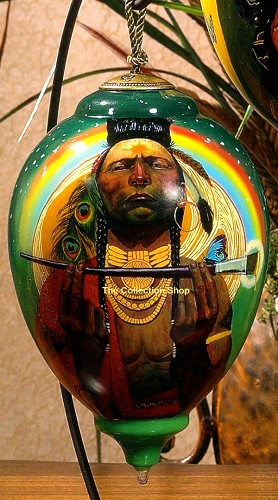 Ebony Visions Indian Paint Brush Neqwa Ornament
Status: Only 1 Available | Condition:New | Edition:Limited Edition | Dim:6.75 inches | Ebony Visions | LE-TB-437n
Price:$100.00
Availability: Yes as of Date: August 10, 2022
Product Details
Indian Paint Brush from Thomas Blackshear's Original Art Work. This item has been sold out by the Manufacturer. Availabily is based on current inventory. Prices will begin to increase on this item soon.
Ne"Qwa, in the Mandarin language, is the term for this centuries-old artistic tradition of reverse painting on the inside of glass. This technique creates a brilliance and luster that is not attainable with standard painting methods. Through a small opening in each ornament, the artist uses delicate brush strokes to hand-paint on the inside of mouth-blown glass. From outlining to shading to color application, all work is painstakingly done in freehand.
Artist Bio
A world class illustrator, Thomas Blackshear is best known for his limited edition prints and collectors plates. Now, his extraordinary versatility as a fine artist is exhibited in a third dimension: limited edition sculpture. Thomas Blackshears sculptures demonstrate incredible sense of design, unique eclectic style and extraordinary sense of color. Elegant drapery and delicate detail tantalize the eye while revealing each sculpted form. For centuries classical beauty has been portrayed predominantly by white artisans who represent white subjects in their art. Thomas has created a new vision of beauty and human emotion through his work.