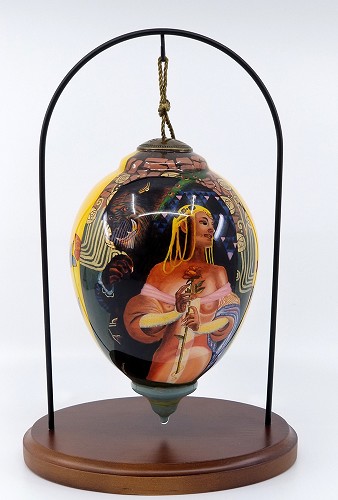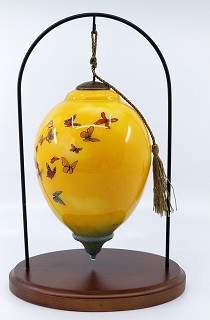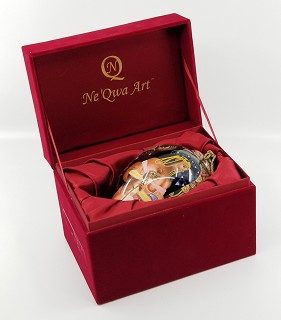 Ebony Visions Beauty and the beast Neqwa Ornament
Status: Only 1 Available | Condition:New | Edition:Limited Edition | Dim:6.75 inches | Ebony Visions | le-tb-438ns
Price:$170.00
Availability: Yes as of Date: August 10, 2022
As an option you may also pay for Thomas Blackshear Neqwa Beauty and the beast Neqwa Ornament using Paypal. Please note that all orders must be delivered to a physical address verified by Paypal or Google. This PayPal option is not applicable to orders to be delivered to Military or International orders.
Product Details
Beauty and The Beast from Thomas Blackshear's Original Art Work.This item has been sold out by the Manufacturer. Missing COA.
Hand-Painted Original Art.
We are proud to present this beautiful and unique line of home decor art. Ne'Qwa artists create every design by using the centuries-old tradition of painting on the inside of mouth-blown glass. An artist signature and the Ne'Qwa logo, etched into the glass, authenticates every piece.
Artist Bio
A world class illustrator, Thomas Blackshear is best known for his limited edition prints and collectors plates. Now, his extraordinary versatility as a fine artist is exhibited in a third dimension: limited edition sculpture. Thomas Blackshears sculptures demonstrate incredible sense of design, unique eclectic style and extraordinary sense of color. Elegant drapery and delicate detail tantalize the eye while revealing each sculpted form. For centuries classical beauty has been portrayed predominantly by white artisans who represent white subjects in their art. Thomas has created a new vision of beauty and human emotion through his work.