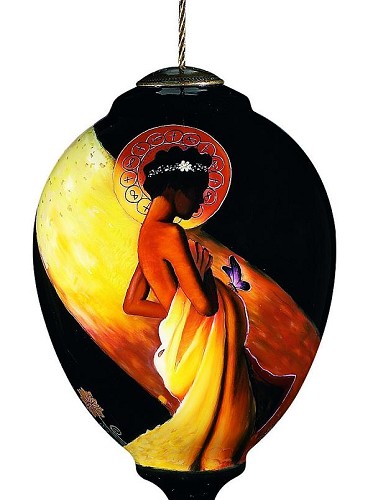 Ebony Visions Annunciation Neqwa Ornament
Status: Only 1 Available | Condition:New | Edition:Open Edition | Dim:6.75 Princess | Ebony Visions | 527-LE-TB
Price:$125.00
Availability: Yes as of Date: September 26, 2022
As an option you may also pay for Thomas Blackshear Neqwa Annunciation Neqwa Ornament using Paypal. Please note that all orders must be delivered to a physical address verified by Paypal or Google. This PayPal option is not applicable to orders to be delivered to Military or International orders.
Product Details
Annunciation
Stands are available
Unique licensed art by some of the world's top artists makes Ne'Qwa Art an impressive home decor accessory for year-round display. Each gift comes complete with a decorative, braided cord and tassel, a removable hang-tag that explains the techniques used.
Artist Bio
Pick up any hand-painted, blown glass design from Ne'Qwa Art and you will be holding an amazing art form that dates back more than a thousand years. The same meticulous hand-painting techniques that captivated emperors and art connoisseurs in centuries past go into each Ne'Qwa Art decorative accessory today. In Mandarin, "ne'qwa" describes this centuries-old artistic tradition of painting on the inside of glass. Now, Ne'Qwa Art brings this art tradition to a new level with the addition of licensed art from a variety of renowned artists. To ensure the survival of this ancient art form, Ne'Qwa Art develops new artists through its own art school in China. After completing years of training, artisans working in Ne'Qwa Art's wholly owned manufacturing facility follow artistic traditions passed down from generation to generation. These high quality home decor accessories showcase licensed art from some of the world s best-known artists to beautify contemporary homes.