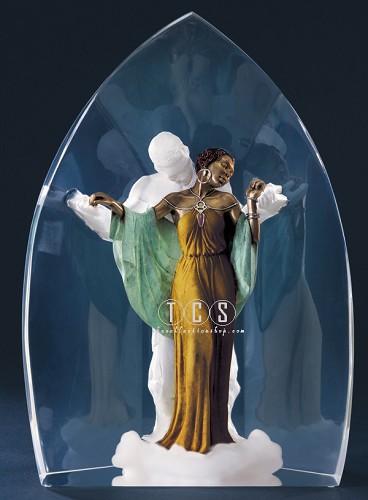 Ebony Visions Tender Touch Legends Gallery Proof #17
Status: Only 1 Available | Condition:New | Edition:Gallery Proof | Dim:14.875 | Ebony Visions | 98778
Price:$2,860.00
Availability: Yes as of Date: September 29, 2023
Ebony Visions Tender Touch Legends Gallery Proof #17
is eligible for layaway in 3 equal payments of $953.33 over 60 days.
9/29/2023 $953.33 1st payment
10/29/2023 $953.33 2nd payment
11/28/2023 $953.33 3rd & final payment
payments are automatically deducted from your credit card.
As an option you may also pay for Ebony Visions Tender Touch Legends Gallery Proof #17 using Paypal. Please note that all orders must be delivered to a physical address verified by Paypal or Google. This PayPal option is not applicable to orders to be delivered to Military or International orders.
Product Details
The vision of Tender Touch is reflected in the strength and durability of the art piece itself. Taking the original sculpture, the female figure was cast of Legends Mixed Media bronze and then embedded in clear acrylic. The image of the male figure is presented as a relief within the optically perfect acrylic block to complete a stunning masterwork. In addition to the original 350 issued pieces there will be 25 Artist Proofs and 25 Gallery Proofs issued, bringing the total number of pieces to 400.
What is a Gallery Proof Sculpture: Gallery Proof editions are a small edition of a particular design that has hand painted color variations and are available ONLY from Authorized Gallery Dealers like The Collection Shop. Because of their unique color design they are not a part of the original numbered edition. All Ebony Visions Gallery Proof editions are Hand Signed and Numbered personally by Thomas Blackshear. The slight variations in color make them a very unique item to add to your collection. Ebony Visions Gallery Proofs are limited to only 50 pieces.
Artist Bio
"I always knew I wanted to create Ebony Visions'. As an artist who happens to be black, I had distinct ideas about what I would like to see in the line." The elegant compeling figurines he created for the collection are a blen of both Art Nouveau and African culture, which Thomas calls "Afro-Nouveau." - Thomas Blackshear .Thomas Blackshear introduced Ebony Visions in April 1995 with the release of the first six Ebony Visions designs, The Storyteller, The Protector, The Nurturer, Siblings, Madonna and Tender Touch. Since then, Thomas Blackshear has created many new designs to add to the Ebony Visions collection. Thomas Blackshear's Ebony Visions collection is a master work of romantic symbolism. As with his paintings, these sculptures demonstrate Thomas Blackshear's incredible sense of design, unique eclectic style, and extraordinary mastery of color. Elegant drapery and delicate detail tantalize the eye while revealing each sculpted form. Thomas Blackshear's Ebony Visions depicts a full range of emotions that are both powerful and at the same time subtle. He deliberately portrays his Ebony Visions figures in a timeless setting in order to transcend a specific time, place, or culture. This unique collection of limited edition figurines emphasizes the beauty of the human form and symbolizes universal aspirations and ideals of humankind depicted through images that reflect the unique characteristics of the African American culture. For centuries classical beauty has been portrayed predominantly by white artisans who represent white subjects in their art. In this romantic and subtle tour de force, Thomas Blackshear creates a new vision of beauty and human emotion, an Ebony Vision.