THE VISION BEGINS
Thomas's career as a collectibles artist has spanned a variety of themes and has given him the opportunity to create projects ranging from ornaments, figurines, to plates. His limited edition prints have been published by The Greenwich workshop. His Christian paintings have been published as lithographs by Dayspring. But no theme has been closer to his heart than the concept he first developed in 1994 with Willitts Designs International. "I always knew I wanted to create Ebony Visions," he says. "As an artist who happens to be black, I had distinct ideas about what I'd like to see in the line." The elegant, compelling figures he created for the collection are a blend of both Art Nouveau and African culture, which Thomas calls "Afro-Nouveau." Interestingly, the line was not created exclusively for an African American audience. As Thomas says, "The collection reflects not only my visions as a black man and the unique visions of black people, it represents visions we all share, regardless of the color of our skin. Emotions like hope, love, tenderness, faith, and serenity know no boundaries."
Because each of the designs in Thomas Blackshear's Ebony Visions are a powerful expression of human experience, the line has been enthusiastically received since its June 1995 introduction. The line continues to earn many awards, including the coveted 1996 Rising Star Award, 1999 Artist of the Year Award, the 2000 Figurine of the Year award for Oh No She Didn't and first runner up for the 2000 Artist of the Year award from the National Association of Limited Edition Dealers. Thomas was also honored with the 2001 International Collectible Artist Award which commemorates Thomas into the new International Collectible Hall of Fame. According to Willitts Designs Art Director Mary Kern, "Thomas's incredible sense of design, eclectic artistic style and extraordinary mastery of color is demonstrated throughout the collection." Now in its sixth year, the collection is thriving as Thomas continues to create figures that evoke memories, emotions, and resonate with meaning. The first six figurinesthat debuted in 1995 have since retired and have become highly sought-after and treasured collectibles.
the man, the visionary.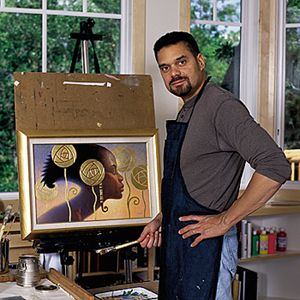 For the year 2000, Thomas expanded his vision further with the introduction of a new grouping within the Ebony Visions collection called The Blackshear Jamboree Parade. The sculptures are a celebration of youth, portraying children whose fanciful costumes incorporate both contemporary and traditional African design elements. Each child is playing a musical instrument or just enjoying the fun of the jamboree. Rudy Toot, was the year 2000 event-exclusive design and Kitty is the 2001 event-exclusive. Marching along in his colorful costume, Rudy Toot embodies the spirit of playfulness that resides in the heart of every child.
Giving Praise
For Christmas 2000 and 2001, Thomas designed very special fourth and fifth editions to his annual series of Christmas Commemorative Ornaments: Joy to the World and A Bright & Morning Star. Heavenly Peace, the sixth and final design in Thomas's Ebony Visions annual ornament series makes its way to us in 2002. The Angels series started in 1997 and each year Thomas has added heartwarming and adorable new sculptures including (Little Blue Wings, On Wings of Praise, A Bright and Morning Star, Peace on Earth, and Joy to the World) all of which are closed editions now. This attitude of praise and gratitude permeate Thomas's life and work. "Everything I've accomplished is only because of what God has done for me," he says. "All I've done is taken the talent He's given me and worked at it."